Please apply by October 5th at
www.schoolcafe.com
Por favor aplicar antes de el 5 de Octubre


There is so much more to Free and Reduced Lunch than Great Food! Hay mucho mas beneficios en aplicar para almuerzos gratis o reducidos que solo buena comida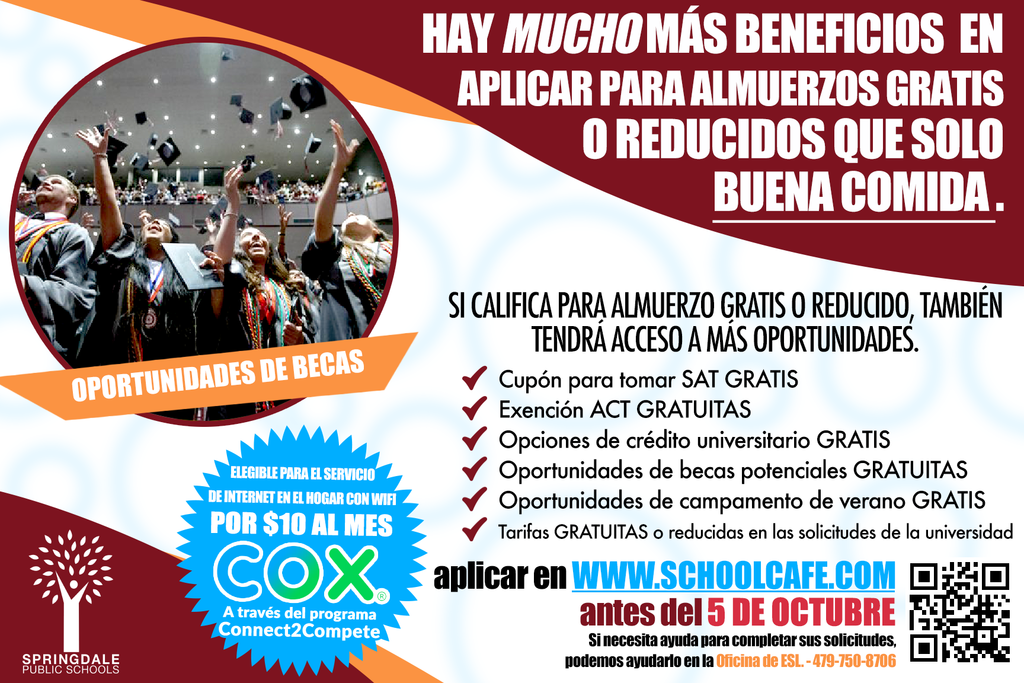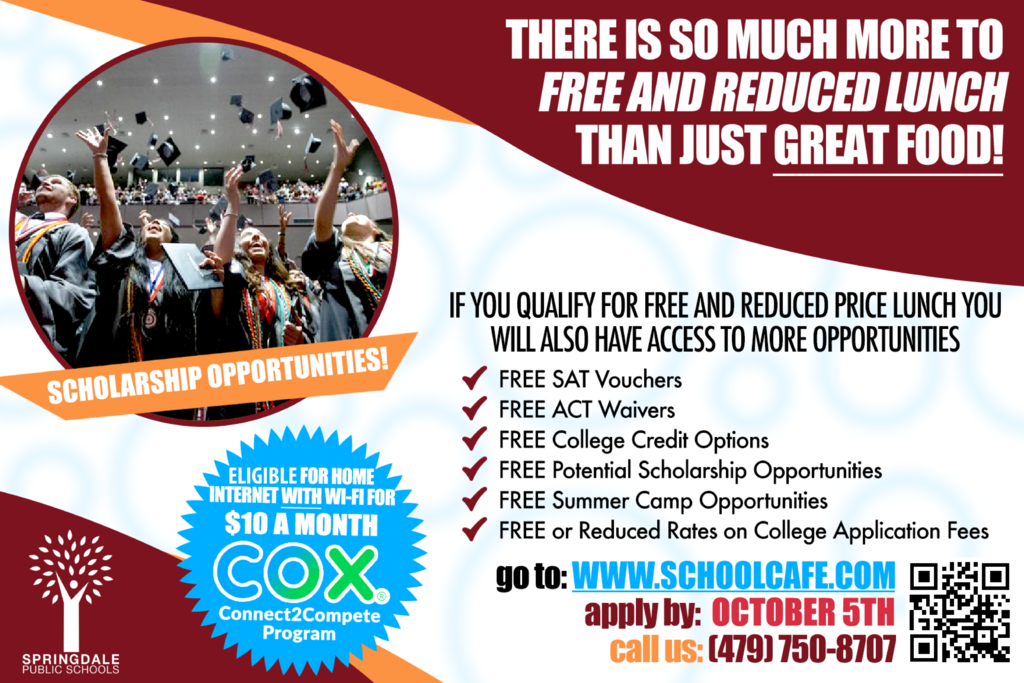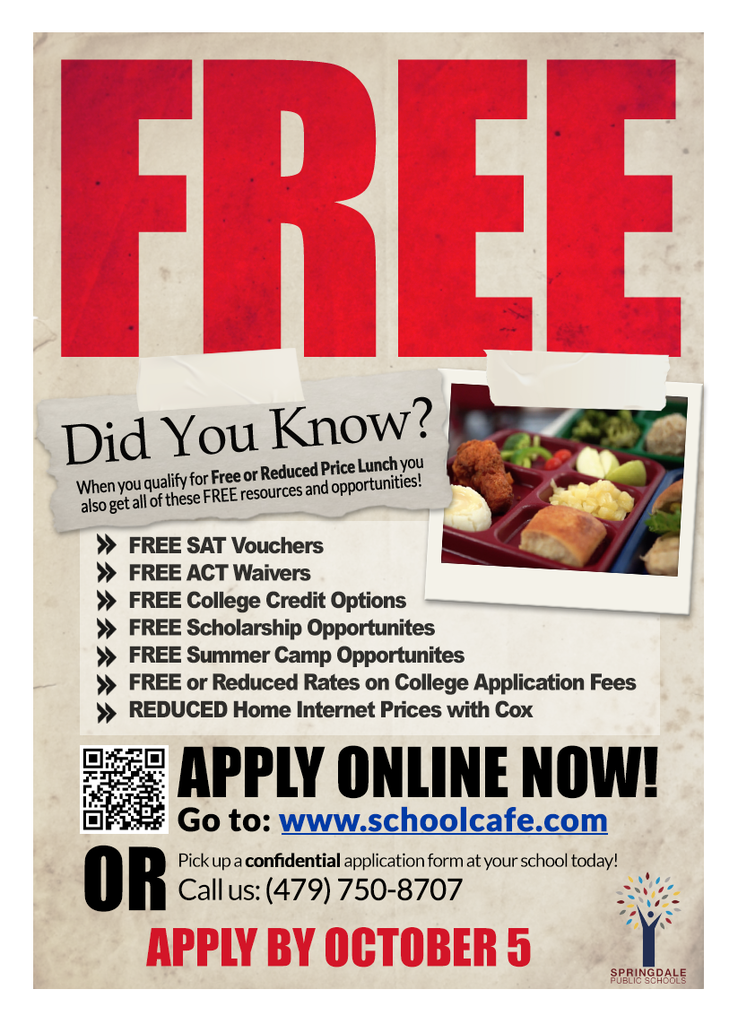 Have you filled yours out yet? It is time to POWER UP!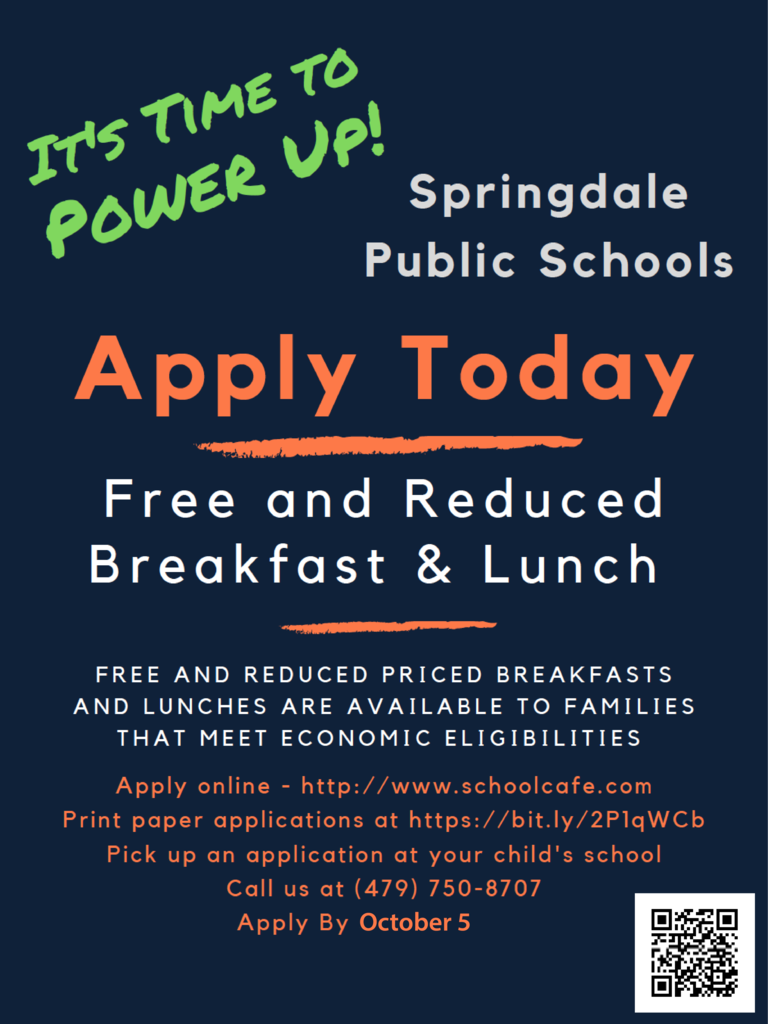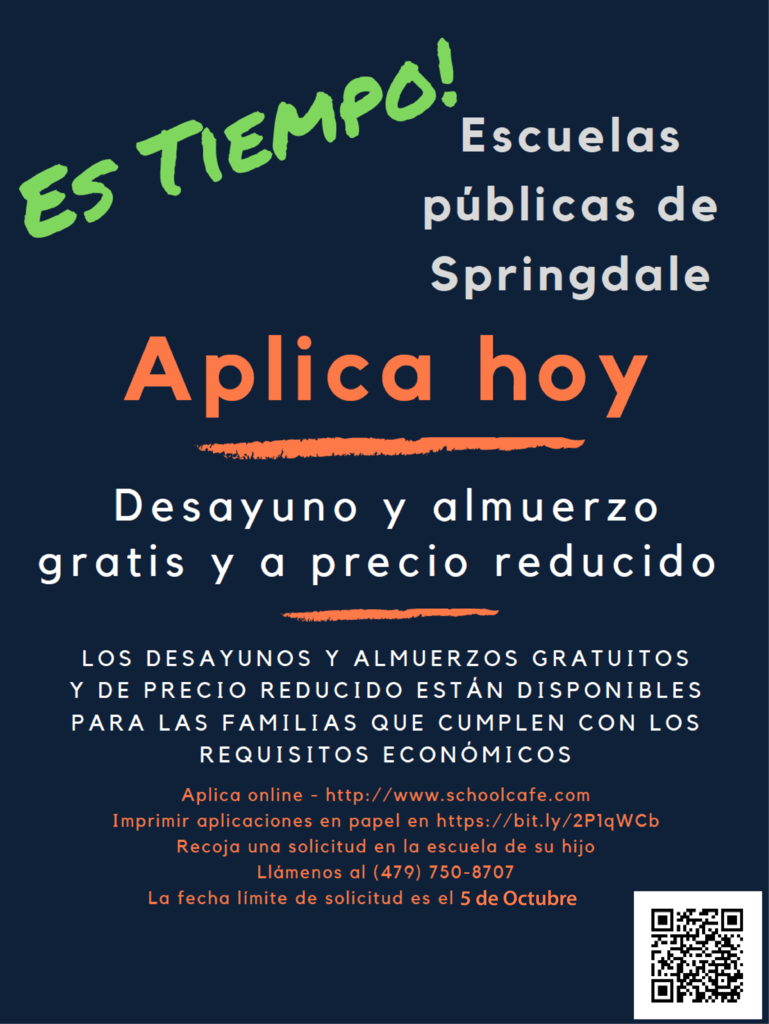 Parents please read this important flyer below to learn about free and reduced lunch. Please apply by October 5th. Padres, por favor lean este anuncio importante sobre almuerzos gratis y reducidos. Favor de aplicar para el 5 de Octubre.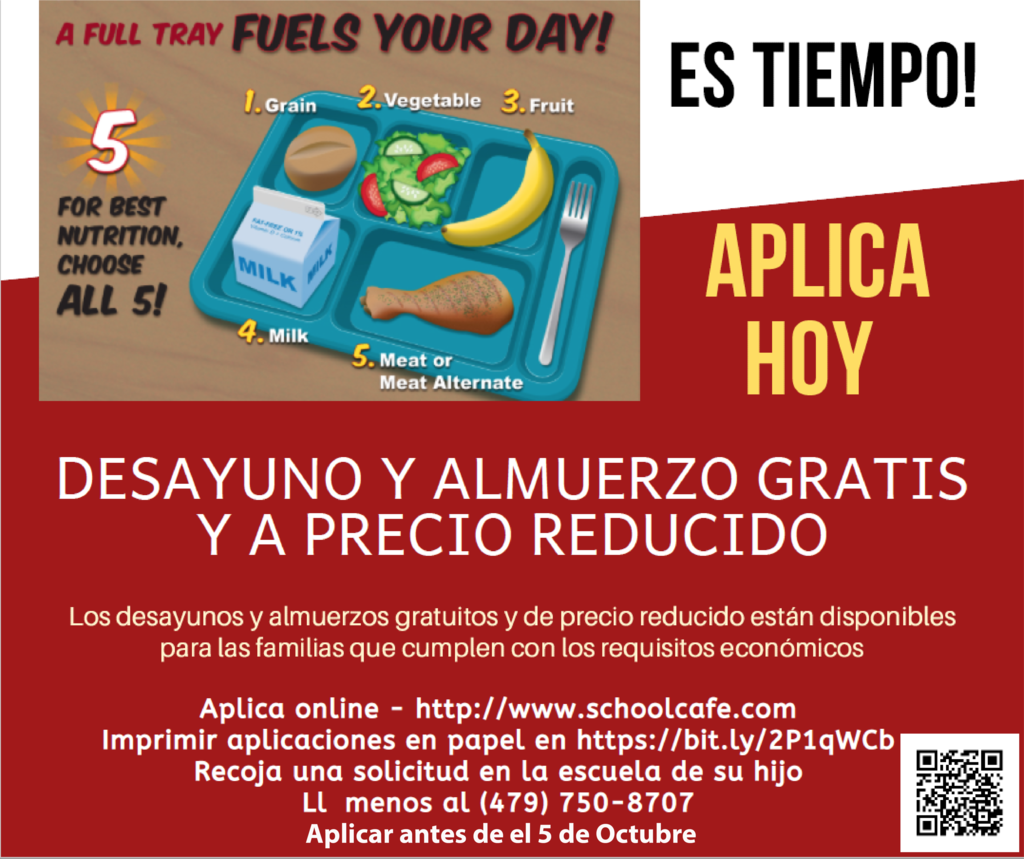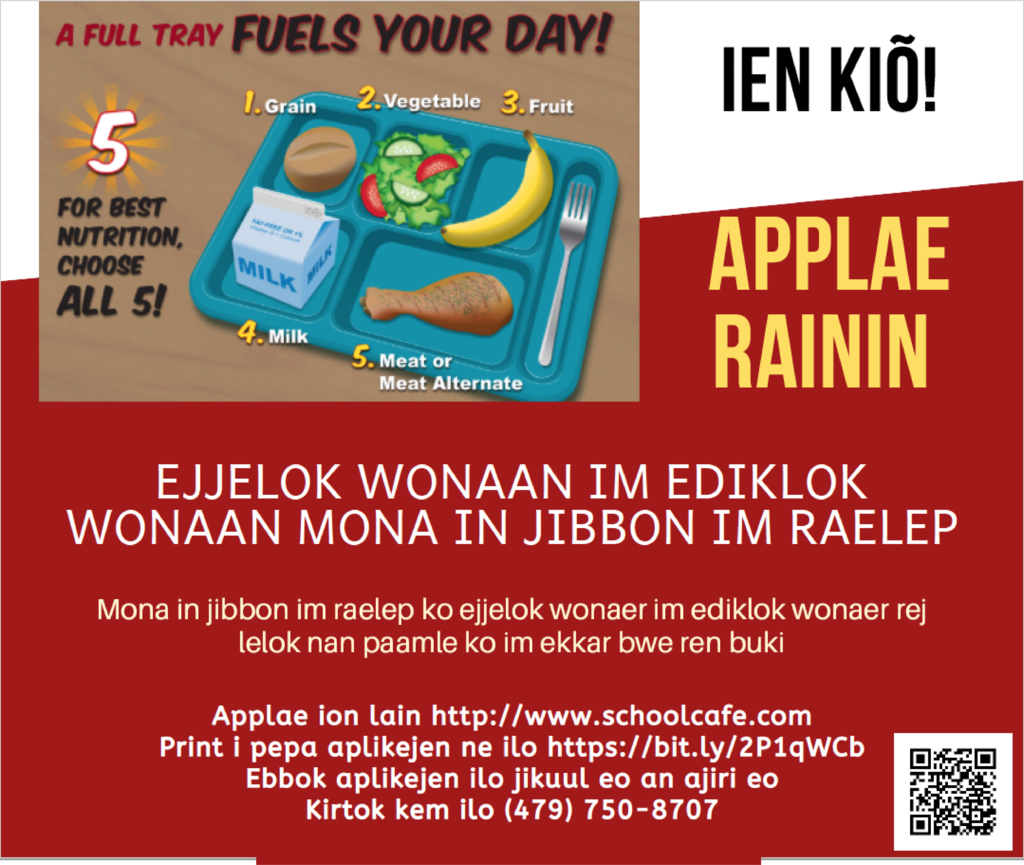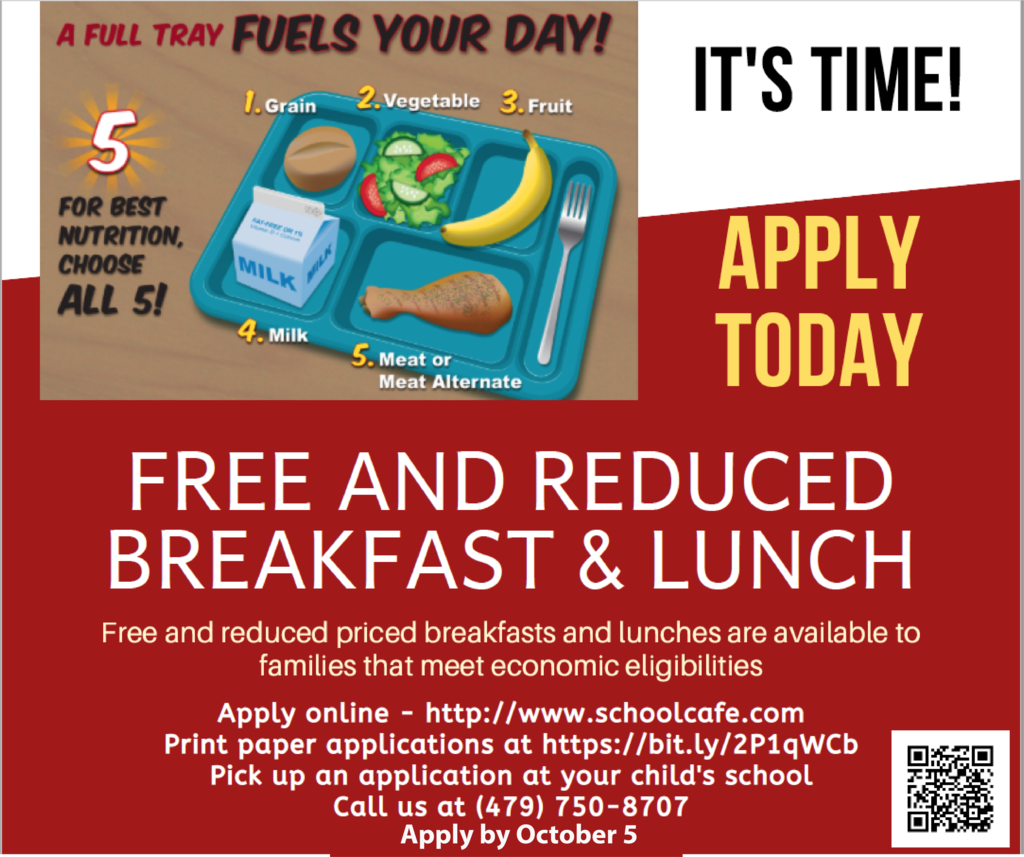 Favor de llenar el formulario de almuerzos gratis y reducidos! Son más que solo almuerzos, también ayudan en apoyar a los programas de nuestro sistema escolar.

Please fill out Free and Reduced Lunch forms! It is more than meals, it also helps important programs in the our school system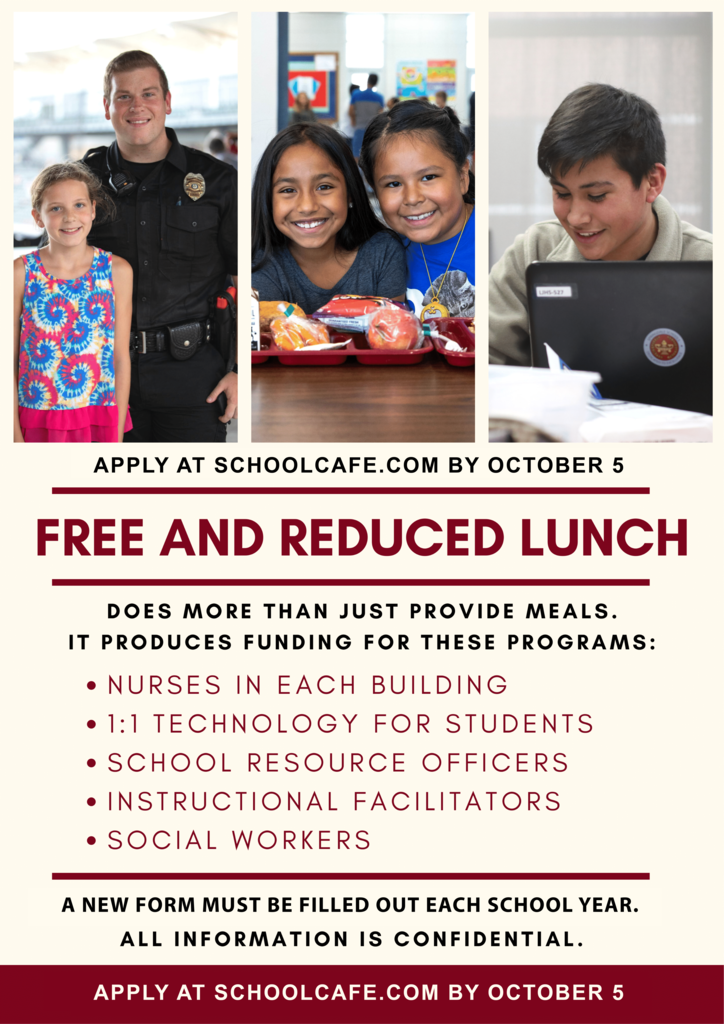 Padres, por favor lean el anuncio importante sobre almuerzos gratis y reducidos. ¡Es más que un almuerzo!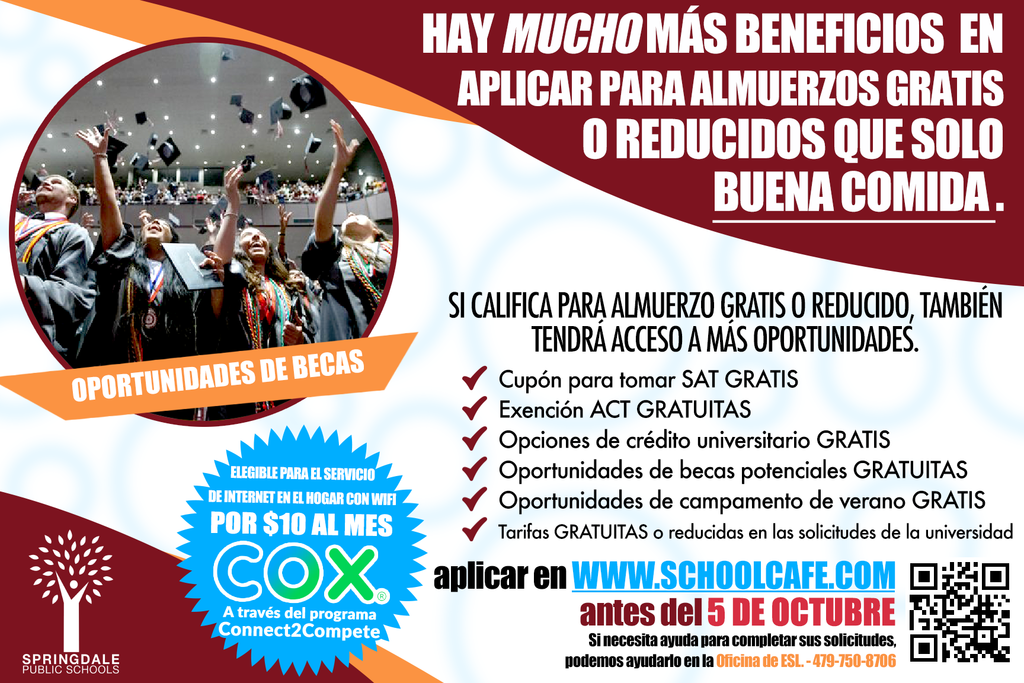 Parents, please read the important announcement about free and reduced lunch. More than just a meal!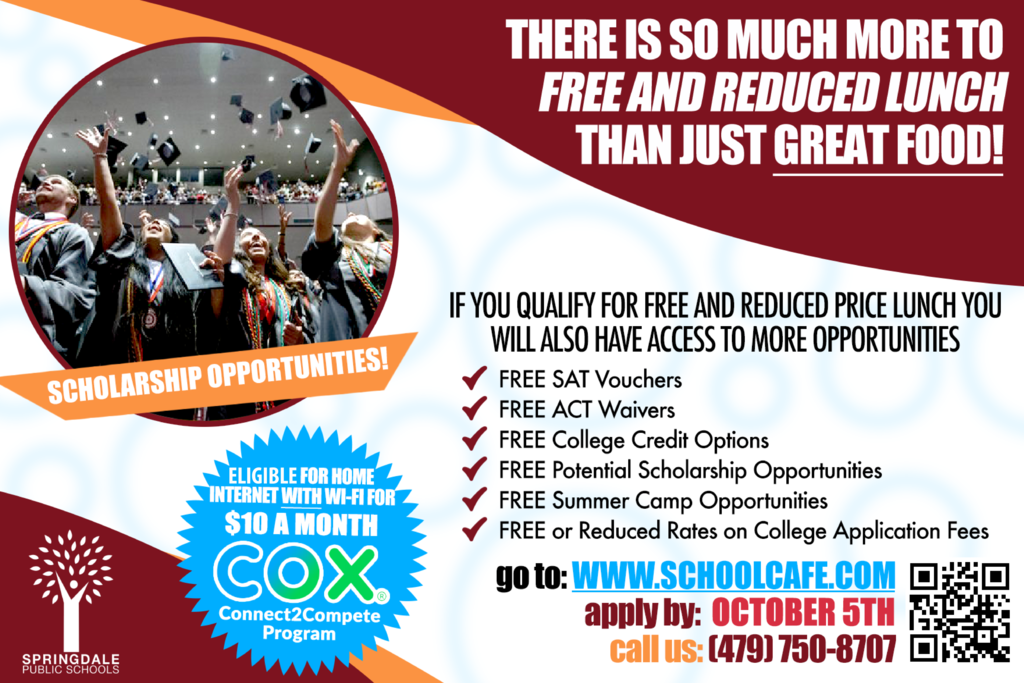 Free Childcare for Essential Workers while funds last. Please follow the prompts below. Taking care of our essential workers is another reason why Springdale Schools is #THEChoice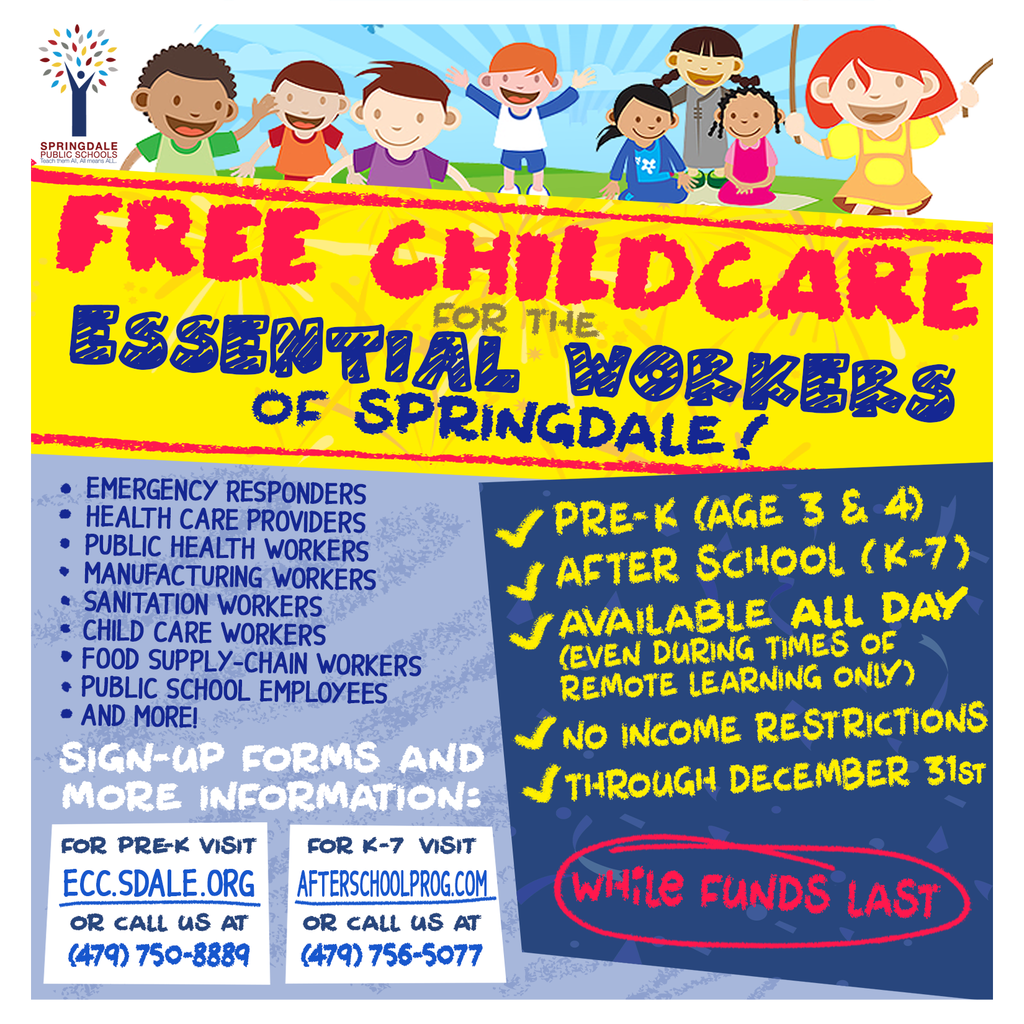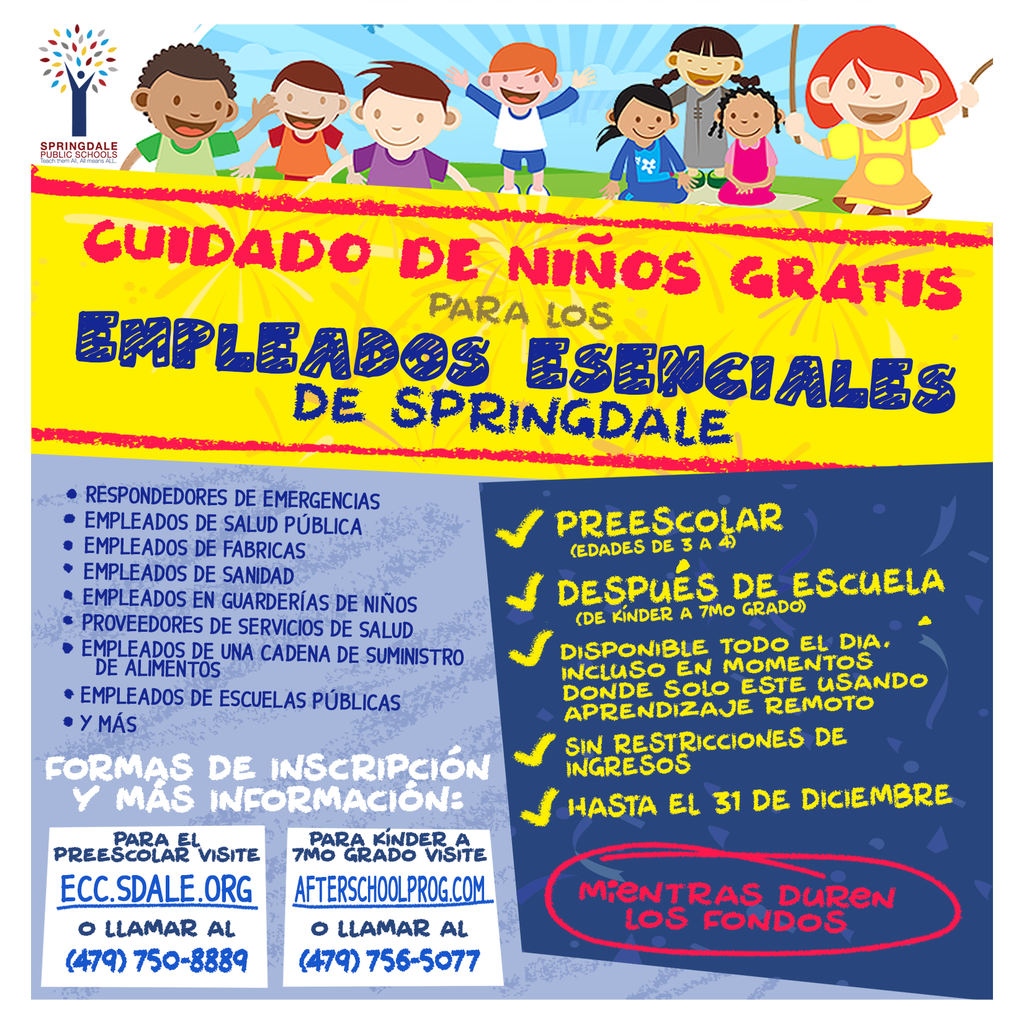 Our AMI packets are available on the web at
http://go.sdale.org/AMI
, or look for the AMI button on your schools' website. In addition to the required lessons, you'll find helpful resources for each grade level including videos and translations for grades K - 2. Please contact your child's teacher if you have any questions. Thank you for your continued partnership and support. ------- Nuestros paquetes de AMI están disponibles en la web
http://go.sdale.org/AMI
o busque el botón AMI en el sitio web de su escuela. Además de las lecciones requeridas, encontrará recursos útiles para cada nivel de grado, incluyendo videos y traducciones para los grados K - 2. Por favor, póngase en contacto con el maestro de su hijo si tiene alguna pregunta. Gracias por su continua colaboración y apoyo. ------- AMI packet ko am rebed ilo website ne
http://go.sdale.org/AMI
, ak bukot ilo AMI button eo ilo website eo an jikuul. Kakobabalok ilo lesson ko kom aikuj kommani, kom naaj loe resource ko renaaj lukkun jiban nan kajojo kireet labol ekoba video im ukook ko nan kilaaj K - 2. Jouj im kirlok rikaki eo an ajiri eo najim elane ewor am kajjitok. Kommol kin am wonmaanlok wot im paatnor ippam im barainwot jappoot ko am rellap.


UPDATE - NEW LOCATIONS ADDED: Lunches to go will be available for Springdale Public School students ages 18 and under Tuesday-Friday between 11:30 am and 12:30 pm at Hellstern, Sonora and Tyson Middle Schools and George, Parson Hills, Smith and Jones Elementary. Sacks will include breakfast for the following day. In addition sack lunches, which will include breakfast for the following day, will be delivered Tuesday-Friday with deliveries beginning at 11 am. Please see the list of stops below.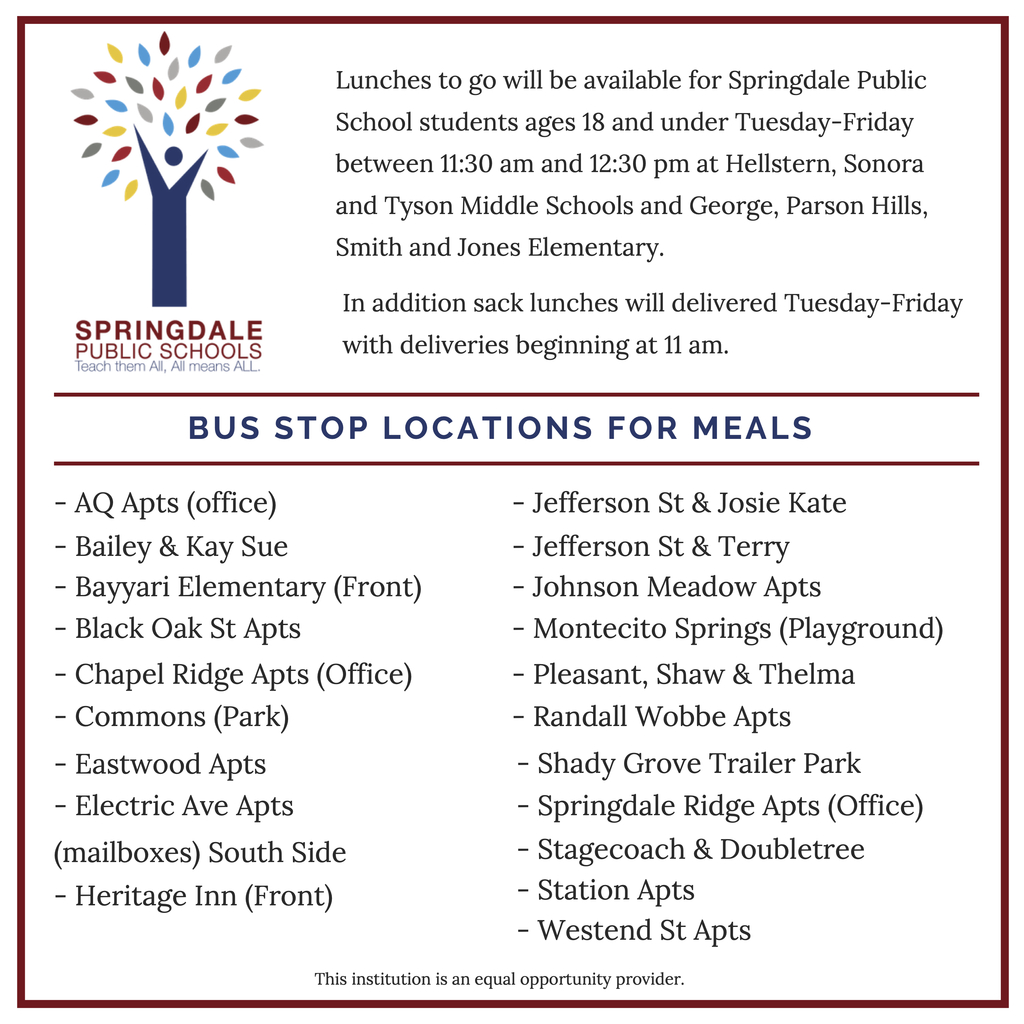 We have SnackPacks available on the porch at the ECC (409 N Thompson) from 7:30-3:00 each day this week! 1 bag per child, per day (ages 18 and under).